Welcome to our first ever guest blog! Welcome also to the 'second chance saloon', a new feature inspired by this month's guest blogger Paul Bauer, where we take a second look at films that might not have had the best run first time round – starting with the infamous Waterworld…
WHY WATERWORLD ISN'T AS BAD AS YOU THINK...
As we approach spring, cinema screens will be bursting with trailers for the latest dazzling big-budget blockbusters. Avengers: Endgame, X-Men: Dark Phoenix, Star Wars: Episode IX… they'll all have weighty critical expectations and film audiences counting down the hours.
But expectations can sometimes outweigh reality. Just because a studio has thrown obscene amounts of cash at a movie doesn't mean it'll be a success…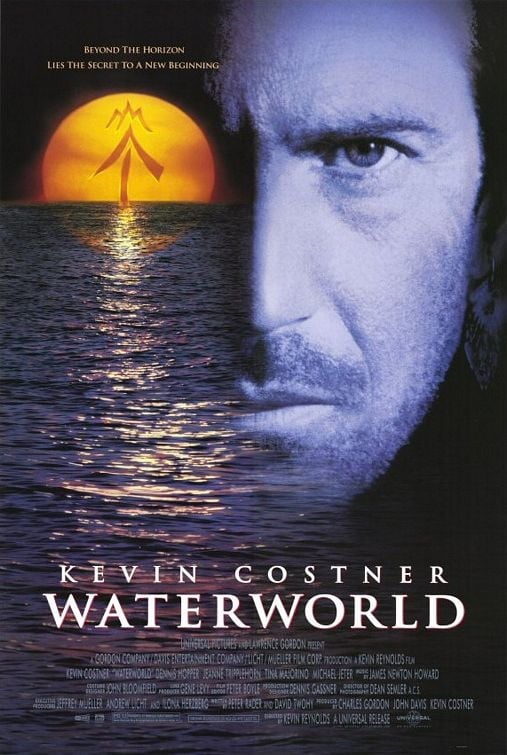 THE BEAUTIFUL MESS OF WATERWORLD
It's 1995. Windows 95 has just been released. Alanis Morrisette has a wealth of spoons in her cutlery drawer. And Kevin Costner is at the height of bouffanted-fame thanks to starring roles in Wyatt Earp, The Bodyguard and Robin Hood: Prince of Thieves.
He is the hottest property in Hollywood; a true A-List megastar. But, his new film, Waterworld, is gaining notoriety before it's even been released thanks to a seemingly-cursed production.
The film's budget skyrocketed to in-excess of $175m thanks to sinking sets, a hurricane, endless screenplay re-writes and rumours of Costner being (allegedly, we must stress) 'difficult' to work with. Oh, and throw into the fact that Costner himself was reportedly nearly killed on set, things were looking grim before it even hit the multiplexes.
When it did, critics didn't exactly savage it. Instead, they offered more of a collective shrug of the shoulders and 'meh' as opposed to 'WHAT ON EARTH??!'.
This indifference and tortuous production contributed to it underwhelming at the box office and torpedoing that all-important audience hype we've grown used to on the run up to big movies.
But is this indifference and downright incredulity towards it warranted? Well, no. Not by a long shot…
---
Want to talk to us about some of our cinema benefits and film tickets? Get in touch today.
---
REAL ACTION
First and foremost, it's a great action film. Yes, you must park the ridiculous plot and questionable acting (we'll come onto that in a sec), but this was made in an age where CGI (as we know it anyway) was still finding its feet.
What you see on screen is what you get (although we'll ignore the terrible airship thing as we're being kind). The sets, the stunts, the vehicles… Aside from some very nice miniatures and sparing use of green-screen, the action was as real as it gets.
'OTT' PERFORMANCES
You could argue that Costner's 'Mariner' character was pretty unlikeable; selfish, troubled, violent and, to be blunt, a bit of a douche – but that's what sets him apart from other 90s action heroes of the day. Anti-heroes are ten a penny now, but Costner's take – for the first 45 minutes or so anyway – was an impressive, if flawed one. Until he reverted back to the typical hero-type… Sigh…
However, Costner's performance is nothing compared to the scenery-chewing mentalness of Dennis Hopper's Deacon – cranking up the crazy villain persona to Nicolas Cage levels of ridiculous, he's a genuine joy to behold. We really do miss you Dennis, come back to our screens, please…
ORIGINALITY
Doubt me all you want, but there hasn't been anything like it since. Sure, we've had endless takes on post-apocalyptic landscapes; but nothing on the scale of Waterworld.
There was clearly a lot of thought and attention given to the look and aesthetic of the drowned Earth; plus, there was clearly some intention of world building going on when it came to portraying the marooned survivors. It's just a shame it wasn't given the chance to fully delve into this and Costner's Mariner character, too.
What do you think? Think Waterworld has gotten an unfair rap? Or should it be left to sink without trace?