ARE WELL ALL DONE WITH EARTH'S MIGHTIEST HEROES?
*Warning: the following article contains major spoilers for Avengers: Endgame. If you haven't seen it yet, well… why not?
So, that's it. All done. Finished, finito, terminado. After 11 years of intricately planned out storytelling, 22 films interwoven in a way never-before witnessed and a vast array of colourful characters each with their own set of unique skills and talents, Disney and Marvel Studios have delivered the final instalment of their Marvel Cinematic Universe, Avengers: Endgame.
After the outcome of Infinity War, the unthinkable happened. The Avengers lost. Thanos cut through them like a knife through butter, collected all six infinity stones, each containing a power that life was built upon, popped them into his natty golden gauntlet and with a simple snap of his fingers turned half of all living things in the entire universe into dust and memories. Then he disappeared into a wormhole and took up residence on a giant farm planet, fulfilling his promise that once it was all said and done, he would sit and watch the sunrise over a grateful universe. Only, we weren't that grateful pal.
With the help of mega-powered newbie Captain Marvel, the few Avengers still left to fight the good fight track Thanos down, head to his planet and chop off his gauntleted arm. Much to their dismay however, the stones are gone, with Thanos explaining that he used them to destroy themselves, making undoing his 'snap' now an impossible task. Thor, traumatised by his failure to stop Thanos in the moments before he initially snapped his fingers, then swiftly aims for the head. And with that, all hope is lost.
Or so we think.
Thanks to a fortuitously placed rat and the Quantum Realm (you know, the shrinky place from Ant-Man), The Avengers can go back in time, grab those pesky stones and re-snap the snap. Only issue is, Thanos is able to follow them from 2014 and lay waste to their compound. Then all hell breaks loose, as Thanos and his army do battle with, well, everyone in one of the most epic and thrilling smackdowns ever witnessed on screen.
Thanks to Tony, proving that he most certainly is the one to lay his body on the wire, Thanos and his crew are vanquished, cleverly mirroring Infinity War's final harrowing scenes.
And, with that, life moves on. All threats are extinguished. Surely, just like Cap, all superheroes can now retire?
Yeah, if you believe that, you'll believe anything.
So, what are Marvel Studios are planning next for their MCU?
SPIDER-MAN: FAR FROM HOME - OUT NOW
Marvel Studios President Kevin Feige has said that the Spider-Man sequel is the film to end Phase 3, as opposed to launching phase 4, and judging by the trailer, the film will deal heavily with the loss of Tony Stark, and the effect that has on his protégé Peter Parker, who must now step up and fill the void Iron Man's death has left on the world.
When strange elemental creatures start appearing around the world, Spider-Man is recruited by Nick Fury to team up with a new, mysterious player, aptly named Mysterio (Jake Gyllenhall), who claims to be from an alternate dimension known as the multiverse, opened up once the infinity stones were used on earth. Whether he can be trusted is another matter entirely.
With some pretty big shoes now needing to be filled, it seems that the friendly neighbourhood Spider-Man is ready to be bumped up to the big leagues and become one of the main players in this bustling franchise. And introducing the multiverse is a bold move for Marvel, meaning they now have a way to introduce characters that may have at one point been tricky to explain into the narrative. Namely, those born with mutated genes. It's out now, so swing by your local cinema to catch it (couldn't resist, sorry).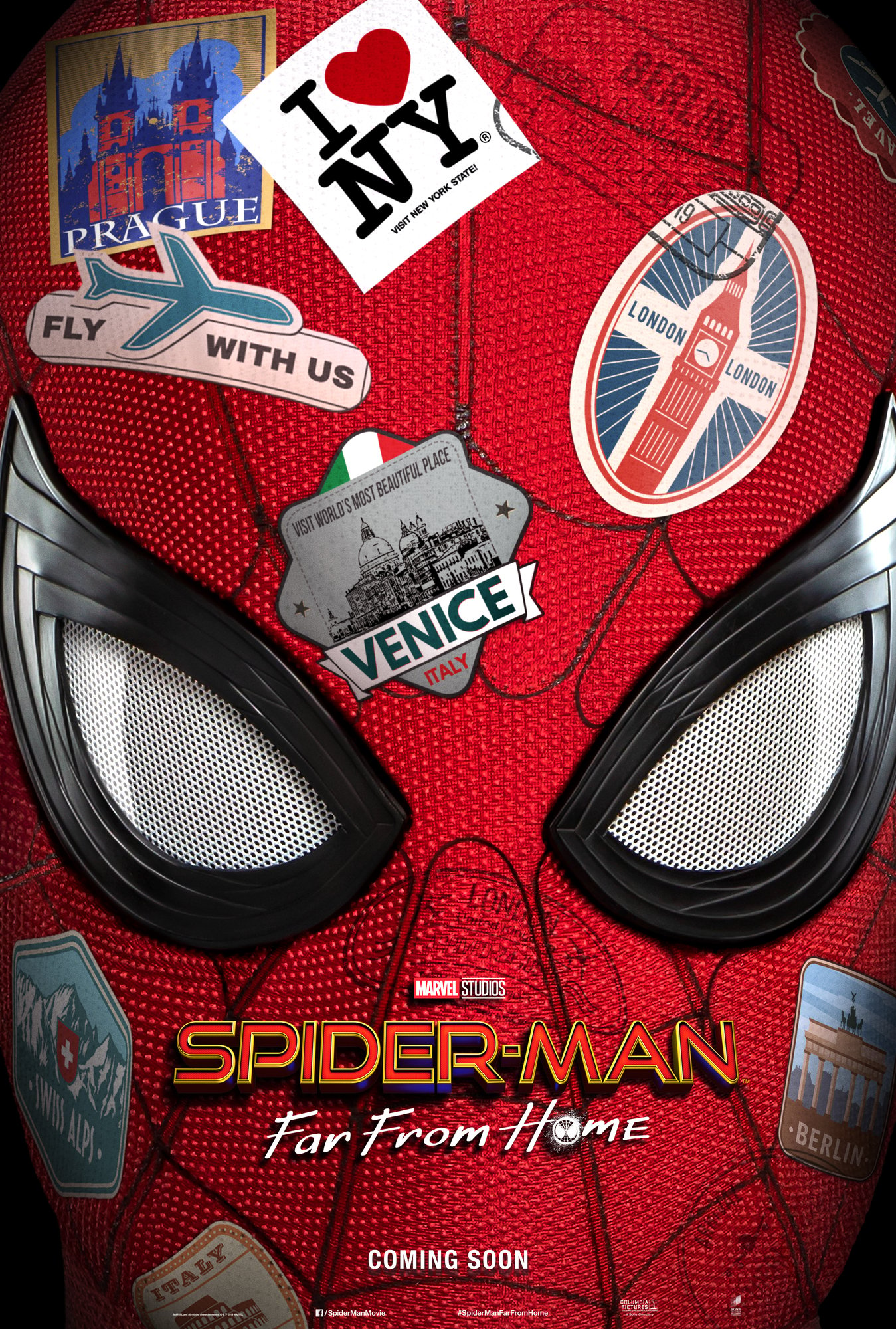 BLACK WIDOW
The other major loss inflicted upon the Avengers during Endgame was the death of Natasha Romanoff, or Black Widow to her friends. Tasked during the so called 'time heist' with retrieving the soul stone, Black Widow travels to Vormir with her BFF Hawkeye, without either realising that in order to earn the stone you must first sacrifice a life. A soul for a soul. So, on the very same clifftop that Thanos threw his daughter Gamora from to retrieve the stone in Infinity War, the two best friends battled it out, each wanting to save the other from dying. In the end it was Natasha, outsmarting the despairing Hawkeye, who threw herself over the edge and plummeted to her death, finally able to wipe the red from a ledger she had created long before she became an Avenger.
This of course begs the question, just what is the soon to be in-production Black Widow film going to be about? It's widely tipped to be a prequel, showing how she grew from being an unstoppable killing machine for the KGB to become a prominent Avenger, dealing with everything glimpsed and heard of so far about her time in 'the red room', a few moments of which we saw in her Avengers: Age of Ultron flashback scene.
I'm not convinced that things will be that simple. The MCU as we know it doesn't strike me as simply putting out a prequel film without it furthering the overall story in some way. Both Captain America: The First Avenger and Captain Marvel were prequels designed to introduce characters that already existed to some extent and bring them into the current storyline. So why would they do that with a character that is no longer around? Unless of course, just like Gamora, a Black Widow from an alternate timeline is waiting to be reintroduced, only this time as an enemy of her friends? More will surely be revealed in the next few months.
THE ETERNALS
"Who?" you may ask. This is Marvel's next big cosmic adventure, and just like The Guardians of the Galaxy, if you aren't a big fan of the comics, chances are you will never have heard of them. That's all soon to change though, because it's highly likely that this will be next on their release slate following Black Widow. Casting has already begun, with Angelina Jolie ready to make her long-awaited MCU bow, alongside Kumail Nanjiani. Game of Thrones and The Bodyguard star Richard Madden is also expected to sign on as the male lead, with Jolie likely headlining.
The Eternals are basically a race of genetically altered super-humans, created long ago by the Celestials (think Star-Lord's dad). Unfortunately, the Celestials also happened to create a second race, known as the Deviants. As you can imagine, they aren't the good guys. Not a great deal more is known at present, other than the film will be directed by Chinese film maker Chloé Zhao and will likely play a pivotal role in expanding the MCU storylines further out into the cosmos.
ASGARDIANS OF THE GALAXY (MAYBE?)
Despite Guardians of the Galaxy Vol 3 initially being mired in controversy thanks to director James Gunn being removed from the project after some old tweets resurfaced, things are now firmly back on track for everyone's favourite band of space faring miscreants. Gunn has been reinstated, most of its cast have been unsnapped and now, following the conclusion of Endgame, they have a new member amongst their ranks, namely the God of Thunder, Thor.
Having rescinded all Asgardian monarchy duties over to Valkyrie, Thor has decided to follow his newfound pal Rocket on board the Guardians' ship, where he was last seen playfully vying for captaincy with a less-than-impressed Star-Lord. As for the Guardians themselves, it seems that they may go in search for the missing Gamora, albeit the Gamora from the past, and not the Gamora sacrificed for the soul stone. Having turned against Thanos in the final battle to fight alongside the Avengers, she was never shown to have been snapped, so it's safe to assume that she is still out there somewhere.
SEQUELS GALORE (DEFINITELY)
Now that the original Avengers team are no more (only the Hulk and Hawkeye remain, on earth at least), the focus now moves on to the next batch of superheroes ready to take their place and defend, avenge or revenge those in need. Disney recently confirmed eight release dates for their upcoming MCU instalments, all the way up to 2022. Whilst nothing has officially been announced, pre-production work is already underway on Dr Strange 2, Black Panther 2 and will no doubt soon kick into gear for a sequel to this year's other billion-dollar MCU hit, Captain Marvel. Also coming, via Disney's upcoming new streaming service, are a host of new tv miniseries, focusing on characters from the film world. Confirmed so far are a Falcon (or Captain America?) and the Winter Soldier show, as well WandaVision, which looks like it could begin to explore the slightly more unstable aspects of the Scarlet Witch's powers. Also rumoured are spin-offs for Loki and Hawkeye.
The big question of course is whether one of these scheduled dates has been set aside for a fifth Avengers film. Given that the previous four have so far grossed an incredible $7.5 billion dollars at the worldwide box office, it's a safe bet to assume that Disney will want to carry on adding to those coffers. All that remains now is to figure out how they could possibly top Thanos' near-universe-ending escapades. If only there were a recently acquired team of mutated super-powered beings, or 'mutants' if you will, that could enter the fray and offer the Earths Mightiest Heroes a whole new set of problems. That could be X-citing…
Now that we are no longer in the Endgame, let the fun really begin.