"WE'RE IN THE ENDGAME NOW"
Despite the 'Earth's Mightiest Heroes' very best efforts, the purple-chinned Mad Titan made good on his slightly deranged promise to gather all 6 Infinity Stones, snap his fingers and wipe out half of all living life in the universe. Charming.
But, as Tony Stark once told Loki, "if we can't defend the Earth, you can be damn sure that we'll avenge it". Well, with Avengers: Endgame within touching distance, this is exactly what a now depleted Avengers are gearing up to do.
Of course, there were plenty of casualties throughout Infinity War, but considering the rumoured use of time travel, either via the Time Stone or the Multiverse, it's fairly safe to assume that most, if not all, of those who perished will return during Endgame. But how many of them will make it out again?
Let's take a look at who we think will walk away, and who we have to say goodbye to forever (not counting re-watching the entire series over and over again of course…)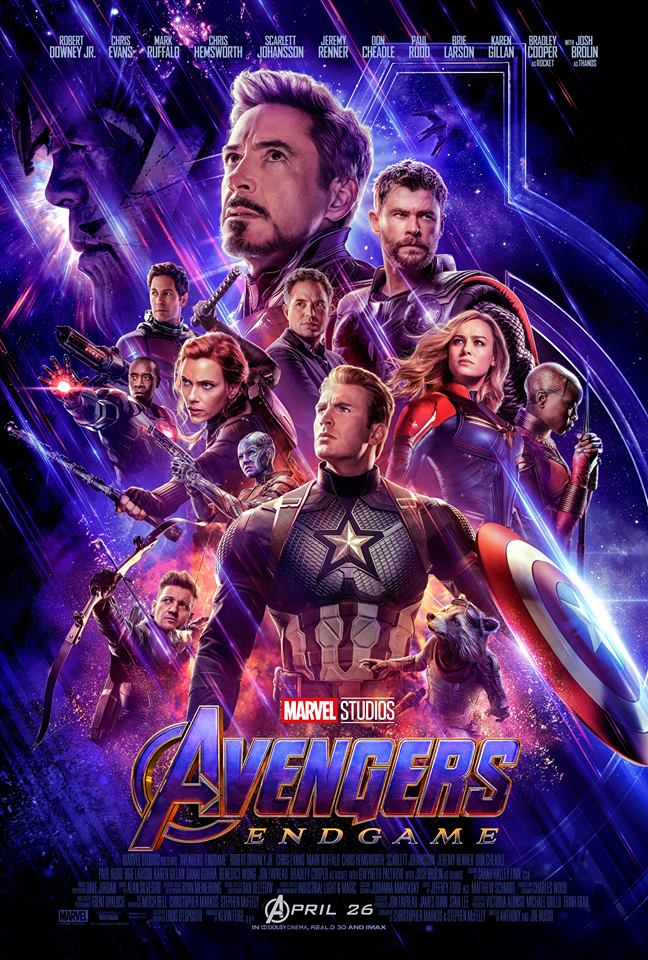 TONY STARK/IRON MAN -
80% CHANCE OF SURVIVAL
The man the MCU was built upon. Currently floating adrift in space. Has proven time and again that he is ready to sacrifice himself for the safety of mankind. Will he this time? Our guess is…he walks away victorious.
STEVE ROGERS/CAPTAIN AMERICA -
10% CHANCE OF SURVIVAL
It seems fairly certain that one of the main players is going to give up their lives to defeat Thanos. Our pick for that is Steve Rogers. He's the most vulnerable against the Mad Titan's strength but has also proven that he is willing to put his body on the line and make the ultimate sacrifice. This time we doubt the ice can protect him.
THOR -
85% CHANCE OF SURVIVAL
Thor: Ragnarok gave the God of Thunder a much need resurgence. Armed with Stormbreaker, he has already proven a formidable match for Thanos, and we don't think his adventures are over just yet. But why oh why did he not go for the head?!
BRUCE BANNER/THE HULK -
95% CHANCE OF SURVIVAL
Even though he was a no-show for the majority of Infinity War after his beating at the hands of Thanos in the opening few minutes, it's obvious that The Hulk still lurks inside Banner. This won't be the last we see of him, and as Banner has admitted in the past, trying to kill him has proven nigh on impossible.
NATASHA ROMANOV/BLACK WIDOW -
50% CHANCE OF SURVIVAL
Incredibly skilled, but human nonetheless, Natasha is horribly outgunned in this fight. But with a solo film in the works, her odds of survival are just about even. If it is a prequel as rumoured, then fear the worst.
JAMES RHODES/WAR MACHINE -
40% CHANCE OF SURVIVAL
Tony's long-suffering pal has been put through the ringer so far in the MCU, having already lost the use of his legs in the superhero civil war. Will he lose more this time out? Here's betting Terence Howard secretly hopes so…
CLINT BARTON/HAWKEYE -
10% CHANCE OF SURVIVAL
As has already been witnessed, Hawkeye is the most vulnerable Avenger. And with probably the most underwritten role in the whole MCU, expect him to make a splash this time round. Fighting for his family's survival will come at any odds.
ROCKET RACCOON -
90% CHANCE OF SURVIVAL
They had better not – but if they do, here's hoping that Groot goes on a John Wick style hunt for vengeance.
NEBULA -
10% CHANCE OF SURVIVAL
Possibly the one with the biggest grudge to bare against her 'Daddy', Nebula's arc has come full circle within the MCU. No longer the crazed villain she once was, Nebula will now fight side by side with the Avengers. She's played a bit part in comic-book story-lines, so will she be the one to end it all? Either way, her life hangs precariously in the balance.
OKOYE -
75% CHANCE OF SURVIVAL
T'Challa's trusted bodyguard will do everything she can to get her King back in his rightful place, even if that means sacrificing her own life. Surely not though – we want to see her enjoying a Frappuccino at the grand opening of the new Wakandan Starbucks.
SCOTT LANG/ANT-MAN -
80% CHANCE OF SURVIVAL
It feels like the Ant-Man franchise has been put in place purely for Endgame's use of the Multiverse, so it is a distinct possibility that this is where the character ends. But can Marvel really kill off Paul Rudd – we think not.
CAPTAIN MARVEL -
100% CHANCE OF SURVIVAL
Really? Have you seen Captain Marvel?
PETER PARKER/SPIDER-MAN -
100% CHANCE OF SURVIVAL
Unless Marvel are prepared to pull off a cinematic twist of Shyamalan proportions, and cancel the soon to be released Spider-Man: Far From Home, I think it's safe to assume that we will be seeing more of our friendly neighbourhood Spider-Man.
STEPHEN STRANGE/DOCTOR STRANGE -
95% CHANCE OF SURVIVAL
Strongly rumoured to be a leading player in phase four alongside Black Panther and Captain Marvel, it seems highly likely that Doctor Strange will make it out of Endgame intact. Also, a Dr Strange sequel is already in the works so…
KING T'CHALLA/BLACK PANTHER -
100% CHANCE OF SURVIVAL
There are about 1.3 billion reasons that T'Challa will again don the vibranium Black Panther suit once the dust has settled and Thanos has been dealt with. Besides, Marvel can't finally own the X-Men rights and not have Storm show up in Wakanda, to steal his heart. That would just be mean.
PETER QUILL/STAR LORD -
70% CHANCE OF SURVIVAL
Oh Peter. Love and grief blinded him, and now here we are. Will he make it out? Well Guardians of the Galaxy 3 is in the works (with James Gunn, woo hoo!) but is that set before or after the events of Infinity War? Time will tell.
GAMORA -
10% CHANCE OF SURVIVAL
Having been sacrificed for the Soul Stone, it remains to be seen whether events can be changed by altering time, or by destroying the Soul Stone itself. If it's the latter, this may very well be the end of the line for the deadliest woman in the universe (*cough* Carol Danvers *cough*).
DRAX -
10% CHANCE OF SURVIVAL
He has a personal vendetta against Thanos, holding him responsible for the death of his family. Like Nebula, he has been a key player in Thanos-focused stories in the comics, so if he does in Endgame will he come away unscathed?
MANTIS -
85% CHANCE OF SURVIVAL
Surely she's far too adorable to kill off! Marvel wouldn't be this cruel!
BUCKY BARNES/THE WINTER SOLDIER -
90% CHANCE OF SURVIVAL
Will he, as once heavily rumoured, take over the mantle of Captain America if his best bud Steve retires/gets incinerated? Or will he remain in Wakanda and become the White Wolf? Something tells me that Bucky is here to stay.
SAM WILSON/FALCON -
90% CHANCE OF SURVIVAL
There is a rumoured Falcon and Winter Soldier series in the works for Disney's upcoming streaming service Disney+, and considering these two have only shows glimpses of a friendship, I think it being set before the events of Infinity War and Endgame is out of the equation. So expect Falcon to 'swoop' into phase 4 (honestly, that's the best we have…)
WANDA MAXIMOFF/SCARLET WITCH -
90% CHANCE OF SURVIVAL
Wanda has only begun to scratch the surface of her powers, and with the recent Disney acquisition of 21st Century Fox, namely the X-Men rights, could she play a prominent role in their integration into the MCU?
VISION -
70% CHANCE OF SURVIVAL
Vision was unaffected by the snap, what with him being a robot and all. Thanos ripping the Mind Stone out of his head however, pretty much killed him. Was Shuri able to remove the Mind Stone from his system before he died? We have a sneaky suspicion that the greatest mind to ever live was successful, and that we will see the Vision again.
LOKI -
50% CHANCE OF SURVIVAL
The God of Mischief has faked his death so often that it's now impossible to tell whether he will walk away or not. Having had his neck snapped by Thanos in Infinity War, it would appear that Loki is gone for good. However, rumours abound of a Loki standalone series for Disney+, with no word on whether it's a prequel or not. So is this really the last we will see of the ultimate trickster?
HOPE VAN DYNE/WASP -
85% CHANCE OF SURVIVAL
It would be pretty harsh on poor Hope if she had finally gotten her hands on the Wasp suit, only to be killed off one film later. We don't think that this is the last we have seen of the Wasp within the MCU, even if that may not be fighting alongside Ant-Man.
VALKYRIE -
80% CHANCE OF SURVIVAL
Having spent the majority of Infinity War floating somewhere in space, it looks as though Valkyrie survived the snap, having already been one of the lucky 50% to survive Thanos attack on the Asgardian refugee ship. Expect Valkyrie to play a part in Endgame and beyond.
SHURI -
90% CHANCE OF SURVIVAL
Despite being shown as deceased in a previous trailer, we still think that Shuri will have a part to play in Endgame, possibly involving a resurrected Vision. Beyond that, it's highly unlikely that one of the most promising characters in the entire MCU will be killed off so soon.
GROOT -
80% CHANCE OF SURVIVAL
I am Groot.
PEPPER POTTS -
1% CHANCE OF SURVIVAL
Rumoured to acquire armour of her own and finally become Rescue, there is an impending air of doom around poor Miss Potts. Thanos, having already admitted to knowing who Tony Stark is, will also know that his biggest weakness is Pepper's safety. You may want to take a hanky…
FURY -
100% CHANCE OF SURVIVAL
The man whose vision brought the Avengers together. Having survived invasions, assassinations, robot attacks and adorable cats, Nick Fury appears to be just damn impossible to kill. That and also, he's in the Spider-Man: Far From Home trailer.
THANOS -
50% CHANCE OF SURVIVAL
The pantomime villain. The big bad. The psychotic, mass murdering, genocidal maniac. Call him what you will, Thanos has already proven to be an almost impossible adversary, and that was before the Stones. But, as Arnie once said, "if it bleeds we can kill it". First Tony drew a drop of blood, then Thor put a gaping hole in his chest. Will it finally take a woman to do the job properly? Over to you Carol.
So there we have it. Our predictions for the fate of all the familiar faces we're expecting to see in Avengers: Endgame.
Who will win? Who will lose? One thing is for certain, jaws will drop.
What do you think will happen? Join the conversation over on Instagram @HelloFilmology
Back to Film Club