It's that time again! This week our guest blogger Victoria Le Geyt investigates the hotly anticipated Detective Pikachu ahead of it's release on 10th May!
5 reasons you need to see Detective Pikachu this May
The idea of a Pokémon movie might make you roll your eyes, but you can't deny that the enduring 23-year-old franchise couldn't have lasted so long without a little charm. Since Pokémon Red and Green were launched on the Nintendo Game Boy in February 1996, Pokémon has continued to reinvent itself through games, television, movies and toys. Honestly, we should be surprised a live-action Pokémon movie didn't happen sooner!
So, whether you're a seasoned Pokémon trainer or you've witnessed the phenomenon from a distance, here are 5 reasons you need to see Detective Pikachu this May: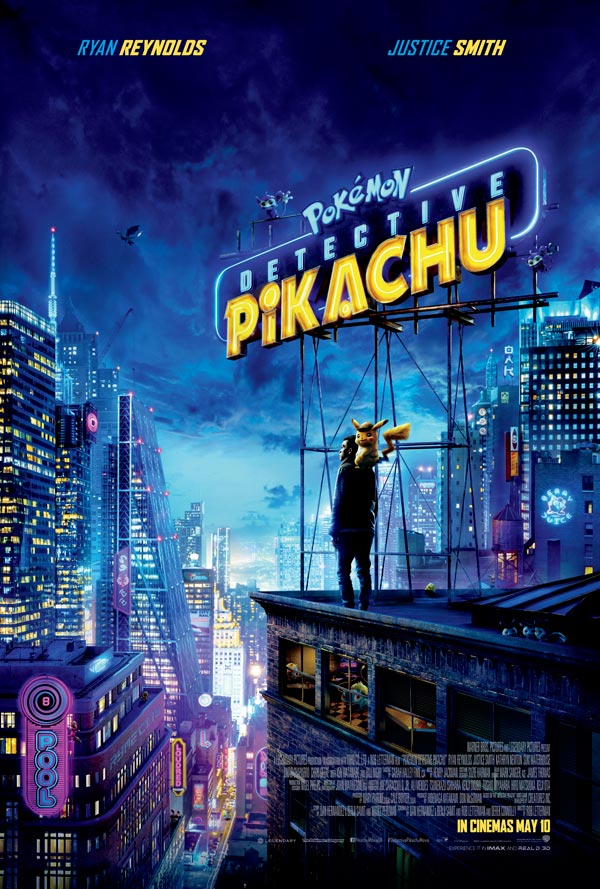 1. The genius-yet-absurd concept
We all know Pikachu, but do you know the walking, talking Detective Pikachu? This version of the lightening-tailed Pokémon isn't satisfied going head-to-head in Pokémon battles, and instead talks tough, is up for a good mystery and loves a high-quality cup of coffee. Odd? Yes. Intriguing? Definitely!
The movie takes place in Ryme City as Pikachu helps his human detective partner Tim find out what happened to his missing father. Sounds familiar? If it does it might be because…
2. It's based on a popular video game
On February 3rd 2016, the world changed. A game for the Nintendo 3DS was released in Japan called "Great Detective Pikachu". While the reception for the gameplay was mixed, the concept and storytelling was applauded, and it was praised for pushing the Pokémon franchise in a new and unexpected direction.
The movie loosely follows the same narrative as the main storyline from the game, but no doubt puts its own spin on it. If you loved the game, you'll love the film, and if you end up loving the film, we've no doubt you'll be itching to pick up the game!
3. Hyper-realistic (and totally adorable) Pokémon
If you haven't yet seen the trailer to this, then you need to STAT! Regardless of your familiarity with Pokémon, these three-dimensional hyper-realistic versions are a sight to be seen!
From adorable fluffy Jigglypuff and Eevee, to huge flame-tailed Charizard – seeing is believing! And if you are familiar with (all 809!) Pokémon, maybe you find yourself wondering if you'd been picturing Ludicolo incorrectly all this time…
Whatever it is, you must see this film if you #GottaCatchEmAll
4. It asks the question: What if Pikachu was Deadpool Lite?
So when the Detective Pikachu movie was first announced there was some speculation as to who might be the voice of the titular character. Danny DeVito appeared to be the frontrunner for fans, who even started a petition which gained over 50,000 signatures! Could you imagine potty-mouthed Frank Reynolds (It's Always Sunny in Philadelphia) as Pikachu!?
Alas, the role ultimately went to Ryan Reynolds, which was met with some curiosity. Would he go full Deadpool? If the trailers and promotional material are anything to go by, he's fully thrown himself into the role and Pikachu reeks of wit and sarcasm, but let's remember this is a PG…
5. It's a mystery
Who doesn't love a mystery? If you're a fan of crime movies and tv shows, don't let this one pass you by just because it has Pokémon in it. It shouldn't matter whether you're a family with kids or a full-grown adult, don't miss one of the biggest cult films of the year.
Heading to the cinema to catch it this weekend? Let us know what you think over on Instagram at @HelloFilmology