IT'S PRETTY MUCH A GIVEN THAT WHEN IT COMES TO VISITING THE CINEMA, FOOD AND DRINK ARE TWO THINGS THAT MAKE A GREAT ACCOMPANIMENT TO ANY MOVIE.
But it's not just the cinema foyer where food and drink make an impact. Sales promotions that are designed to increase sales and engagement for fast food brands, tied in with movie franchises are big business.

Paul Parry, Head of Cinema and Movie Promotions at Filmology, explains how fast food brands are using family blockbusters to target both children and parents alike.
Popcorn, hot dogs and sweets usually come to mind when food and cinema are discussed together. But, many other foods have become strongly associated with films – even though they're not necessarily what audiences are eating whilst at the movies.
In the cinema, on the supermarket shelf, in restaurants, in our kitchens, on TV and on posters all around us. Food brands and cinema are communicating with their audiences to both excite and attract customers.
THE POWER OF IMAGINATION
We're seeing brands teaming up with big movies to capitalise on the buzz driven by films that capture the imagination of their target audiences.
Such campaigns also allow brands to create content that builds on a film's story. They make viewers more likely to engage with the marketed products and, yup you guessed it, improve sales, too.
Subway, Cheetos and, for many years now, McDonald's are just some of the big brands partnering with films as part of their marketing strategies.
PESTER POWER
With pretty robust regulations in place that restrict the advertising of products that are high in fat, salt or sugar to TV audiences, fast food brands are exploiting alternative outlets for their promotional campaigns.
A core reason why brands are using films to reach their target audience is because they want to market to families. As brands can't market directly to children, targeting families as a unit makes a lot of sense.
In the family unit, parents hold the purse strings. A trip to the cinema is often a family outing which may include a meal in a local restaurant and treats; such as confectionery.
As part of these family outings, parents will often treat their children, and marketing promotions are encouraging parents to do exactly that.
While the marketing is aimed at the whole family, the 'pester power' of young children exerts a strong influence.
Dial in film characters that are uniquely engaging for younger children, and you've got a perfect storm of hyped up energy looking to make the most of their visit to the movies.
It's unsurprising that many brands are capitalising on opportunities through film to market legitimately to families and the younger audiences.

FAST FOOD, BIG EXPOSURE
Subway, for instance, partnered up with the 2013 Disney hit Monsters University, referring to its restaurants as "The Official Training Restaurant for Monsters Everywhere".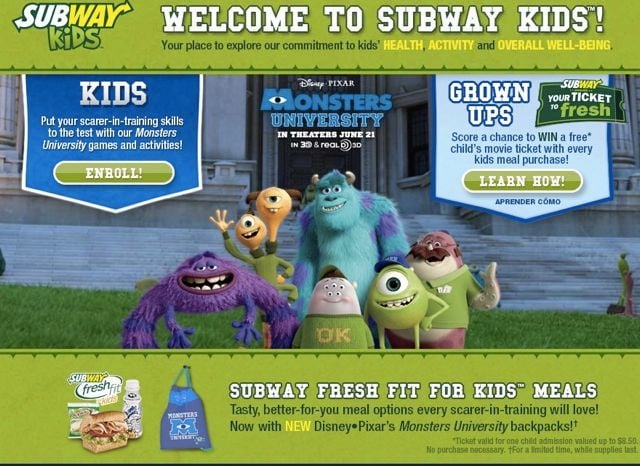 Promotional marketing is the essence of any campaigns. For example, Subway in the UK launched its Kids Pak to include an exclusive Monsters University bag. Meanwhile over in the US, the brand also offered the chance to win free movie tickets.
"Subway stores recognise the importance of family events and the Subway brand has worked with Disney Pixar's Monsters University to encourage families to come together." Explained Manaaz Akhtaar, Head of Marketing for Subway in the UK & Ireland.
In the same vein, US snack brand Cheetos teamed up with the much-anticipated animated feature Despicable Me 2.
The campaign in the US included a competition to win a 'One in a Minion' family adventure to Universal Orlando Resort.
McDonalds on the other hand, partnered with another child-friendly feature – namely, the Smurfs in their Smurfs 3D adventure.
Their campaign involved packaging, a whole host of activities and TV commercial featuring the Smurfs planning a party at a McDonald's restaurant. In addition, a Smurf character gift was also included with its 'Happy Meal' range.
And it's not just food brands targeting younger families that have been partnering with cinema.
A whole range of big brands including Mastercard, Samsung and Tesco here in the UK have used the medium to run highly successful campaigns. The Mars Sweet Sundays on packs of Maltesers, for example, offering a free cinema ticket on a Sunday in exchange for four on-pack codes.
ATTACK OF THE SEQUELS
Of course, it's never a guarantee that a film – regardless of hype – will be either a critical or commercial success. So, marketing managers often bank on sequels or prequels in an already established franchise.
Despicable Me 2, Monsters University and The Smurfs 3D being just a handful of examples of this approach.
This helps offset the risk involved in a large campaign, but also offers the benefit that the franchise has already defined the target audience's demographic. How thoughtful!
It is an approach that seems to be working for both big franchises and brands alike. We can also be fairly certain that it's a marketing strategy that'll we'll be seeing much, much more of in the future.