TODAY'S WORLD IS MULTI-SCREEN AND MULTI-PLATFORM, YET THE BIG SCREEN REMAINS UNIQUE IN ITS APPEAL, IN ITS ABILITY TO DELIVER IMPACT, SCALE AND ENGAGEMENT.
CINEMA ENTERTAINS AND ENGAGES IN A WAY THAT NO OTHER MEDIUM CAN, WHICH IS WHY ITS POPULARITY ENDURES, EVEN AS TECHNOLOGY EVOLVES AT PACE.
The UK cinema industry is enjoying a renaissance right now. Audiences have continued to grow year-on-year since 2015 and in 2018, UK cinemas recorded their highest attendances since 1971.
The fact is, that despite the emergence of streaming services and on-demand entertainment, The great British public love going to the cinema and their appetite for big screen entertainment shows no sign of fading.
So, demand for the big screen is there and visiting the cinema is clearly still one of the public's favourite pastimes, yet costs are increasing; with prices rising year-year-year to a UK average of around £7.50 per ticket.
Also, as Deloitte's Media Consumer Survey 2015 reported, higher ticket prices have forced some to look elsewhere for entertainment, with almost two thirds (61%) of adults citing price as a key factor which would dissuade them from going to the cinema.
The combination of the public's demand for movies and rising costs means that the time is ripe for both brands and employers to tap into consumers' keen appetite for big screen entertainment, easing the cost burden with ticket promotions that help to deliver a powerful and emotive experience.
In this report, we explore why cinema holds such a strong and enduring appeal, how it positively impacts on people's mood, and how both brands and employers can use the medium to reward and incentivise targeted audiences in a memorable way.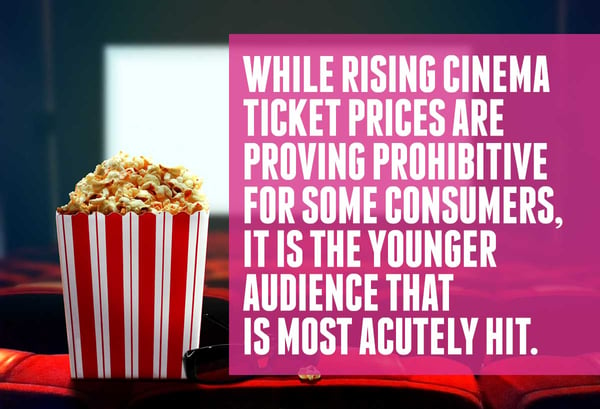 When it comes to reasons why people choose not to visit the cinema, the main factor is simply down to cost.

Mintel have reported that over 70% of 16-24 year-olds cite cost as a reason why they would not visit the cinema, yet this audience - which brands find so notoriously hard to engage with - are keen film buffs.
The current climate provides an excellent opportunity for both brands and employers to bridge the divide between demand and cost.
That said, there is a burgeoning audience of older people who are wholeheartedly embracing - and even rediscovering - the medium since the arrival of event cinema.
Mintel also reported that the average age of those who have attended live screenings is 65-69 year-olds, and it is a fast growing sector, opening up a host of opportunities to connect with this group.
For all cinema-goers the experience is becoming even more premium as cinema operators invest in better technology, seating and environments. From 3D to 4DX technology, 270-degree screens, IMAX and targeted mobile marketing, the space is becoming ever more sophisticated.
Indeed, over the last five years, the UK's largest cinema companies have invested over £400 million in infrastructure and with more and more blockbuster and franchise movies being produced for in IMAX formats, there is a rush for cinema chains to upgrade their tech accordingly.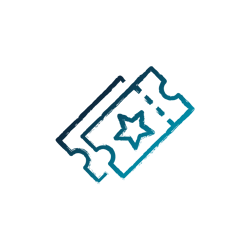 As cinema evolves - technically and format-wise - it is attracting more attention from brands as they realise the power of the medium to reach a captive, and receptive, audience.
It has been proven that consumer happiness levels are higher in the cinema than with other media channels, and it therefore makes sense that brands are investing in this area; cinema advertising expenditure rose by nearly £20m in the UK between 2014 and 2015.
It is expected that cinema advertising expenditure will reach in excess of £193 million in 2018 and continue rising into the 2020's.
As companies explore other ways to capitalise on the opportunity, ticket promotions are a natural progression.
Finally, with PwC predicting that local films will make an even bigger impact in future, the thriving British film industry is perfectly poised to take advantage of this demand.
With the majority of Brits believing that recognition of British films and actors boosts a sense of national pride, the buzz around cinema in the UK looks set to grow even louder.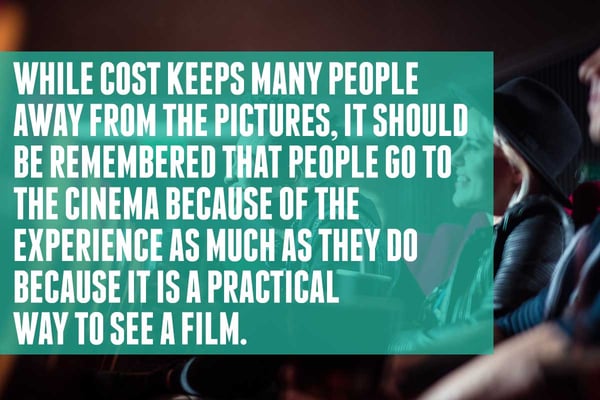 INDUSTRY INSIGHTS
THE UK CINEMA INDUSTRY HAS UNDERGONE HUGE INVESTMENT IN RECENT YEARS, AND A BOOM IN BIG SCREEN ADVERTISING UNDERLINES ITS POWER TO CONNECT WITH CONSUMERS.
Cinema offers almost unparalleled opportunities to engage with specific audiences, and clear trends are emerging...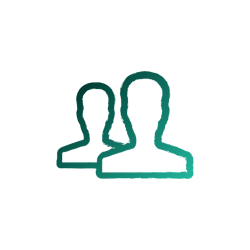 70% of 16-34 year-olds visit the cinema at least twice a year compared to 49%
49% of 35-54 year-olds and 35% of the 55 plus age group
Younger audiences are the most frequent film goers but, as the Mintel report points out, this is a sector that is still 'under particular pressure in terms of disposable income and living/ housing costs.'
Such a challenge will doubtlessly impact on how frequently they can visit. According to Deloitte's Media Consumer Survey 2015, 72% of 16-24 year-olds say that price is the reason they would not go to the cinema.
Brands looking to engage with and appeal to the younger demographic have a clear opportunity to do this by tapping into their passionate love of cinema.
Nearly 70% of 16-34 year-olds visit the cinema at least twice a year, compared to 49% of 35-54 year-olds, and 35% of the 55 plus age group (source: Deloitte).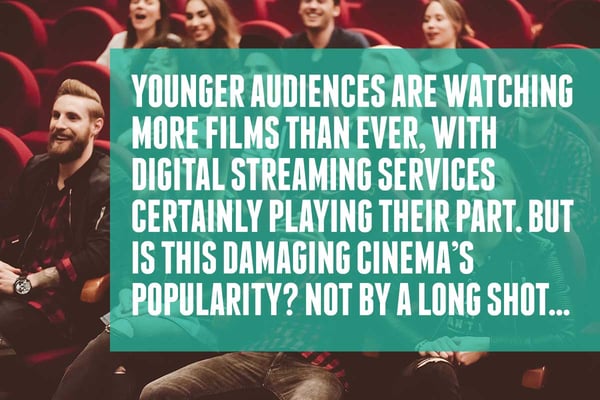 The best place to experience a movie is where the director intended: on the biggest screens, with the best sound systems and without any distractions of the outside world. Plus, with IMAX, the ongoing popularity of 3D and new innovations such as Cineworld's 'Screen X' - a 260-degree immersive screen - regardless of how good your TV at home is (or unless you're a Premiership footballer...), nothing comes close to experiencing a film on the cinema screen.
Maximum impact = Maximum enjoyment.



THE BOYS LOVE CINEMA
Males aged 16-34 are a particularly engaged audience. According to DCM, 88% of this group are cinema-goers, making up 25% of all UK cinema admissions.


CINEMA TICKETS HAVE STRONG YOUTH APPEAL
As DCM reports, UK shopper research carried out by Fotorama in January 2016 found that over a quarter of 18-24 year-olds said they would find cinema tickets the most appealing prize in an instant win promotion. With 67% regularly accessing social networks, younger males are also keen to spread the word.
Brands and employers can be part of that story.
In fact, when it came to the reasons behind why 16-24 year-olds wouldn't visit the cinema, it was the subject of cost that proved the biggest blocker: with 72% of 16-24 year-olds saying that the price of cinema tickets was the main reason why they wouldn't visit the cinema.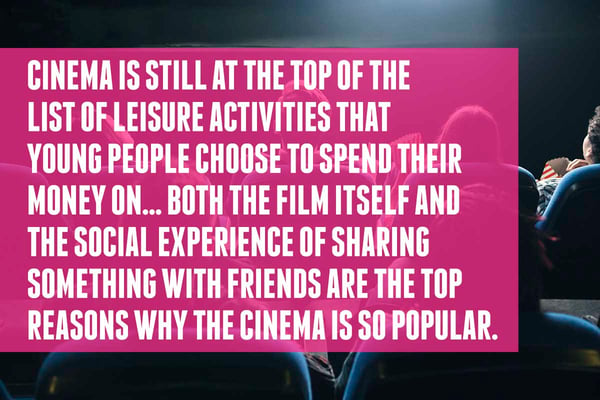 THE RISE OF EVENT CINEMA
Loosely defined as 'non-theatrical programming enabled by digital', event cinema includes live streaming or recorded performances of arts events, from music to theatre and ballet to sport.
This new genre has tapped into a new audience, as well as enticing lapsed cinemagoers.
Once again, this provides a good opportunity for brands to reach a particular age group and demographic. According to the British Film Institute (BFI), the average age of those who have attended live screenings is 65-69 year-olds (source: Arts Council England/BFI, January 2016).


LIVE SCREENING VIEWERS HAVE TIME ON THEIR HANDS
The group which had seen live screenings is less likely to have dependent children living at home, and slightly more likely to work part-time, be studying or retired than the group that had not. In addition, nearly 30% of those who had seen a live screening are based in a city.
There are other opportunities for brands to incentivise consumers too, by tapping into this audience's love of food and drink while they watch, enhancing the social experience. Concessions revenue rises by 30-40% for event cinema, which Mintel says reflects the older, more sophisticated audiences.


MUSIC ROCKS FOR EVENT CINEMA GOERS
The IHS Technology report found that music is an important genre within event cinema, with live concerts and music documentaries tapping into a motivated fan base, providing opportunities for brands to engage with music lovers.
"This research has also given us our first insight into which titles perform well across countries," said David Hancock, Head of Cinema Analysis at IHS Technology.
"The leading title across all countries in the report was the UK's National Theatre production of 'War Horse' (grossing nearly $6m (£4.15m) in the sample countries), followed by One Direction in concert, 'Billy Elliot: The Musical,' and 'Monty Python."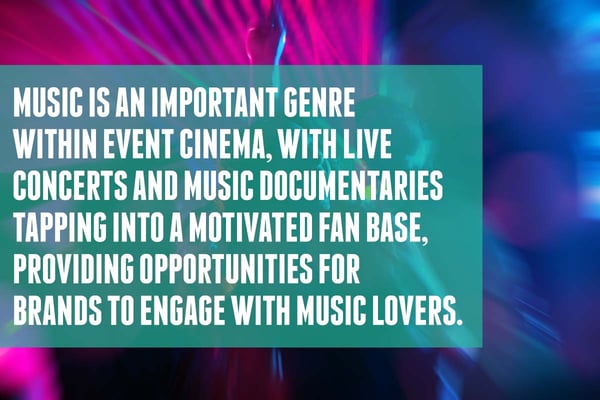 EVENT CINEMA: THE $1 BILLION INDUSTRY
Event cinema is proving to be a revelation with audiences.
"Now that the digital conversion has finished and the market understands what the technology can do, IHS forecasts event cinema revenues globally will hit $1bn (£692m) by 2019," said Hancock. "Event cinema is just getting started."
From virtually appearing out of nowhere to an industry worth in-excess of $1 billion globally in 2019, event cinema has more than just hit it's stride.
Whilst it's believed that the format is reaching a saturation point, there are more than enough new formats - such as the rising popularity of eSports and gaming for example - that are yet to be tapped to their full potentials.
And it's not just the formats of what's being screened that's drawing the crowds.
The in-cinema experience is being continually improved, from screen technology such as laser projection and 4DX, to more comfortable seating, straight-to-seat service and advances in sound technology making a visit to the cinema more of a premium event.
The UK cinema industry is now fully digital. This has improved film quality and enabled cinemas to show a wider range of content, such as live screened events.
Almost 50% of UK screens are now 3D enabled, meaning that many of the most popular movie franchises are taking advantage to enhance the moviegoer's experience.
To put this into some context, 2015's Star Wars: The Force Awakens, grossed just under $930 billion - 47% of this being taken from 3D showings.


ODEON AND CINEWORLD ARE EMBRACING TECHNOLOGY
Throughout 2014-15, Odeon Cinemas trialled iBeacon technology to inform cinema-goers about special offers via their mobile phones.
The cinema chain also looked at scanning technology that would allow customers to scan film posters with their mobile phones to see movie trailers and receive reminders about film releases.
In 2014, around a third of Odeon's customers, or 2.5 million people, had signed up to its loyalty scheme, and a third had agreed to CRM.
Cineworld - ranked second in the UK by number of screens - is just one operator that has invested in replacing its first generation multiplexes with more modern venues.
Alongside their programme of making all their screens digital, they have also brought new 4DX and 270-degree screens to their multiplexes, whilst in May 2015 Showcase Cinemas invested £10m in 9,000 luxury recliners for its UK cinemas.




THE SPOTLIGHT IS ON BRITAIN
As a BFI report has previously noted (Source: How Film Contributes to the Culture of the UK, BFI 2011): "There is strong public support for British filmmaking and people have a high regard for the quality of British films, higher than Hollywood films. People like the humanity, honesty and humour of British films."
The appetite for local film is there, and Britain is well positioned to take advantage of this latest shift. Independent home-grown productions achieved a market share of 11% at the UK box office in 2015 - the third highest since records began.
Phil Stokes, UK entertainment and media leader at PwC, said, "The UK's targeted tax credits, combined with skilled crews, state-of-the-art studios, a thriving visual effects sector and a relatively favourable exchange rate continue to drive inward investment and encourage Hollywood studios to make films in the country."
As the BFI report revealed, over three quarters of respondents agreed that when British films or film stars win international awards, it helps to foster a sense of national pride.
Such a climate creates an opportunity for British brands and employers to ride this wave of positivity, amplifying and owning the buzz.


2015 WENT BEYOND BOND AND SKYWALKER
British film productions, "Spectre" and "Star Wars: The Force Awakens" kick-started UK box office growth and admissions reached 171,930,400 for that year, an increase of over 17% on 2014 (source: UK Cinema Association).
2018 is already shaping up to see another rise in box office admissions of around 3%; topping out at around 176 million, and with some seriously huge films on the horizon for 2019 ("Avengers: Endgame" and "Star Wars IX" being possibly the biggest prospects), that number is predicted to exceed 180 million...
Previously, a strong market share for UK independents has often been driven by one or two key titles, but 2017 in particular has seen British-backed or independent films really making their mark; with 160 UK films taking 37% of UK box office admissions over the course of the year, making £1.3 billion in the process. Not bad...
"CINEMA IS GETTING BIGGER AND BETTER"
"Developments of cutting-edge technology such as Dolby Atmos or 4D experiences continue to give cinema the WOW factor," says Zoe Jones, Marketing and Insight Director, DCM. "4DX screens, which offer sensory enhancements such as smell and water spray, are pulling in younger customers and thriving."
"Elsewhere screens continue to get smaller, but in the cinema they're getting bigger and better. It's an experience that can't be recreated elsewhere."
CINEMA: MORE THAN A FILM
"The cinema industry also continues to invest in the whole social experience. Picturehouse Central, for example, is a seven screen cinema but it also has a restaurant, bars, members' bar and roof terrace."
Over the last five years, the six largest UK cinema companies estimate that they have invested over £400 million in sustaining and growing the UK cinema infrastructure (source: UK Cinema Association).
In addition, over 40 new cinemas have opened in this time.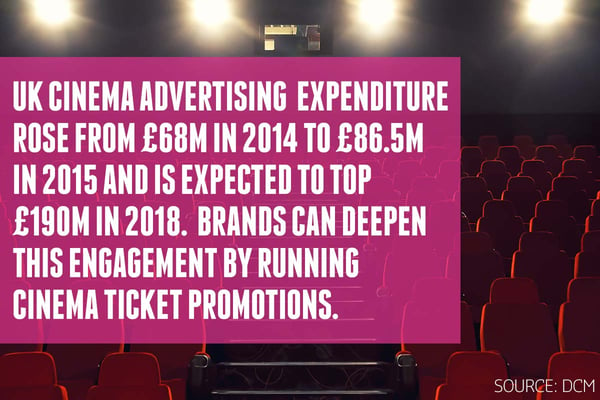 4DX SCREENS, WHICH OFFER SENSORY ENHANCEMENTS SUCH AS SMELL AND WATER SPRAY, ARE PULLING IN YOUNGER CUSTOMERS AND THRIVING.
As Jones says, "The film may be the main event, but it's the overall experience that makes cinema an advertising medium like no other."
She cites DCM's digital cinema portfolio as an example of this 360 experience, allowing engagement with cinema-goers during every part of their trip to the pictures. "Be it in foyer, online or on the big screen, these touch points add scale and frequency to a brand's campaign, offering multiple opportunities to 'complete the circle'."


CINEMA CAN OFFER BRANDS VALUABLE CUSTOMER INSIGHT
The opportunities for brands to better understand and target cinema-goers are also growing. As Karen Stacey, CEO, DCM told The Drum in 2015: "We know our audience – they book and order their ticket for the Avengers on their iPhone or Android. We're just at the beginning of that journey."
Samsung was the top spending cinema advertiser in the 11 months to November 2015, investing £6.9 million – more than double the amount spent in 2014 (source: DCM/Nielsen). Sky, Procter & Gamble, HTC and Lidl all spent more than £5m to complete the list of the top five spending brands, with Lidl's spend up nearly tenfold.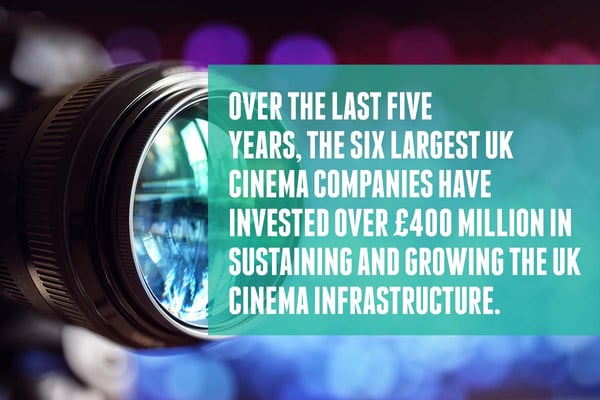 CINEMA MAKES PEOPLE HAPPY - AND RECEPTIVE
It makes sense. The cinema is an environment where consumers are not only deeply immersed in the experience, but they are also in a positive mindset.
A 2015 report titled 'Reel Happiness: Understanding the emotions of cinema goers' (by Anna Cremin, Graeme Lawrence and Kelly McKnight, 2015) revealed that "consumer happiness levels are higher in the cinema than with other media channels, leading to a positive impact on levels of engagement and creating a uniquely valuable environment for advertisers."


CINEMA TICKET PROMOTIONS: A NATURAL NEXT STEP FOR BRANDS
With cinema enjoying consistently high audiences and investment, it is logical for brands to build on the positive buzz of an advertising alliance, taking both exposure and engagement with a targeted group of consumers one step further.
The connection is there and consumers clearly respond to the pairing of brands and cinema.
Where companies can continue to add real, discernible value is by offering cinema tickets to reward loyal consumers - without referring to them simply as 'free cinema tickets'. It completes the circle.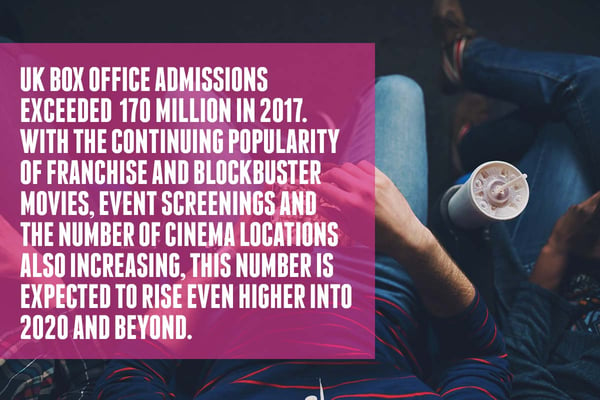 CINEMA PROMOTIONS: WHAT ARE THEY?
Cinema promotions can change the way that people behave, fostering a positive association with brands, raising awareness and driving sales.
The mechanism is simple: consumers who buy a particular product or take a specific action are rewarded by the brand with a cinema ticket. This might be a pair of tickets or a free kids ticket; brands can choose what to offer, depending on their audience.
Companies can partner with a specific film to target their particular audience, or they can widen their appeal, giving consumers the choice of which film they watch.
With the popularity of cinema booming and the price of tickets rising, it is a reward that offers real value and can help boost sales as a result.
As Mintel reports, "In many towns and cities cinema tickets have pushed past the psychological £10 barrier". A pair of tickets offers a valuable incentive for a memorable night out, tapping into the consumer appetite for both cinema and value for money.

THE MECHANISM IS SIMPLE: CONSUMERS WHO BUY A PARTICULAR PRODUCT OR TAKE A SPECIFIC ACTION ARE REWARDED BY THE BRAND WITH A CINEMA TICKET.


HOW DO THEY WORK?

This might mean running a cinema promotion that offers consumers a generic cinema voucher for any film at one of a number of leading cinema chains. Or, it may be that the brand's audience demographic and values fit perfectly with the future release of a particular film.
This means a film partnership might offer the optimum solution, if the film distributor also feels it is a complementary pairing.
The most effective solution for each brand will also depend on the demographic of the audience. This will inform which cinema operator offers the best coverage.
A promotional website will then be built and branded, and the cinema ticket promotion marketed to consumers.
The offer can be redeemed in a number of ways, from consumers uploading an image of their till receipt online to validate their purchase, to the online entry of a unique pack code.
The cinema tickets will either be posted to the consumer or, in the case of Cineworld cinemas, an eCode will be sent by email to be redeemed online or at the box office.


EMPLOYEE CINEMA BENEFITS: WHAT ARE THEY?

Employees are the one asset that truly differentiates a company. Organisations that invest in their employee engagement and value people will reap the rewards.
Cinema tickets offer a simple, compelling and cost-effective way for businesses to demonstrate this appreciation and reward employees for a job well done - without having to simply resort to cash bonuses or increased wages.
Employers buy the tickets in bulk at a discount and employees, in turn, benefit from either free tickets or considerably discounted rates.
A report from Red Letter Days for Business in January 2016 revealed that more than a third of employees said they couldn't name a point where they felt motivated at work in 2015.
Tellingly, 45% of employees surveyed cited a 'good work/life balance' as one of the top motivators.
Cinema tickets offer a powerful vote of thanks, are great for staff morale, appeal to everyone (regardless of age, interests and area) and positively encouraging employees to take some well-earned downtime.
Businesses can also offer staff refreshments as part of the reward, completing a special and enjoyable night out.


HOW TO GO ABOUT IT

Companies should start by discussing their requirements and exploring all the options available, while employers also have the option of simply placing an order for vouchers online.
The five key questions that will help to determine the right cinema ticket promotion for brands and employers are:
FOR BRANDS:
■ What are your campaign objectives?
■ What are your core brand values?
■ What is your budget?
■ Who is your target audience?
■ Does your audience comprise a wide demographic or a narrow one?
FOR EMPLOYERS:
■ How many employees do you want to reward?
■ What is your budget?
■ How would you like to reward your employees (eg through a company intranet)?
■ In which geographical area(s) are your employees based?
■ How regularly are employees likely to enjoy the reward?
■ Do you want to include snacks and drinks in the experience?

EPILOGUE

It's obvious that UK cinema is thriving, and the hunger from British audiences is clear - despite the ongoing challengers of on-demand and streaming-based entertainment.
Investment is growing and technology and formats are evolving, making the experience ever more impactful for consumers. As ticket prices rise, threatening to thwart the realisation of this potential, there is a clear opportunity for companies - both brands and employers - to play a key role in bringing audiences and cinema together.
This is where brands and business come in. With the unrivalled appeal that cinema brings, offering the gift of a trip to the cinema as a reward for continued custom, an incentive for positive behaviours in the workplace or reward for going that extra mile is really a no-brainer.
There are a galaxy of opportunities for brands and organisations to tap into emerging trends around 'slow time' and 'togetherness' that cinema excels in. In doing so, they can make themselves a bigger part of the cinema experience.